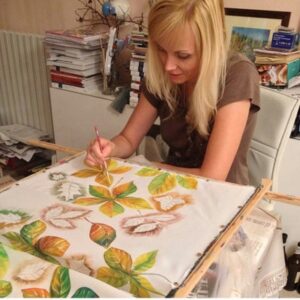 The Butterfly represents transformation, rebirth. The same path that leads the caterpillar to Butterfly, represents the evolutionary path of our soul, is the symbol of the transformation that leads everything towards something better, magical …
I am Olga, since I was a little passionate about painting. I attended art school and declined my passion by learning various creative techniques. For several years I have dedicated myself to painting on silk where I put a lot of love, passion and research into it.
Currently I also dedicate myself to the creation of nunofelt accessories and I am experimenting with medium / ecoprint and natural dye techniques.
All the garments I create are fruits of my artistic expression or inspired by the works of great painters. They are all unique pieces.
Fabrics and pure silks are painted entirely by hand. Paintings are performed with specific hot-fixed colors or dyes, so that the painted fabric can be washed by hand in cold water. Colors do not fade in the sun.